Fastest T1.3 cine lens, supporting 8K & i Technology
XEEN Meister lenses enable cinematographers to create beautiful, consistent, and controlled flare in the image, whilst maintaining contrast and avoiding transmission loss. With 8K support and unique X-coating technology, the lenses and internal light reflections can be effectively controlled to create a distinctive look, with flare and ghosting for dramatic effects. They maximize the delicate emotions of the subject and show rich depiction.
XEEN Meister lenses are color-matched across the full range and feature super-bright T-stops of T1.3. The 13 aperture blades produce excellent low light performance and beautiful bokeh. PL-mount versions also include the i Technology protocol, whereby users with compatible cameras can see and record lens metadata such as focal length, aperture and focus distance.
Each lens has 300° of focus rotation, which helps in creating accurate focus pulls and the focus scales themselves are angled to make it easier to confirm settings, even when viewing the lens from the side. Robust and built using titanium, these high-quality premium cinematography lenses are ready to fit onto a selection of lens mounts adding luxury through future-oriented design.
Model Name
XEEN Meister 14mm T2.6
Maximum T-stop
T2.6
Image Circle
Ø 43.2mm
Angle of View
Full Frame
114.15°
Super 35
95.1°
Focusing Range
∞ to 0.35 m
∞ to 1.15'
Front Diameter
Ø 134 mm
Number of Aperture Blades
13
Rotation Angle of Focus Ring
300°
Rotation Angle of Aperture Ring
79°
Mount
PL
Canon EF
Sony E
Size
Ø134.0 x 92.9 mm
Ø134.0 x 100.9 mm
Ø134.0 x 126.9 mm
Weight (without Lens cap)
1.5 kg / 3.3 lbs.
1.5 kg / 3.3 lbs.
1.7 kg / 3.8 lbs.
8K & Fastest T1.3 Full Frame Cine Lens
XEEN Meister has the outstanding resolution supporting 8K on full-frame cameras. It is the fastest full-frame cine prime lens with T1.3, producing excellent low-light performance. Additionally, a bright T1.3 aperture maximizes the dramatic effect with an extremely shallow depth of field. 13 sheets of aperture blades create the natural-looking background and round bokeh to express the delicate emotions of people while richly depicting the shot.

Lens Meta Data Recording
It supports /i Technology protocol (PL mount only), which enables cameras to automatically record the accurate lens meta data. This makes production and post-production more effectively.

Premium Material, Premium Design
XEEN Meister adopts the premium material and premium design in the spirit of craftsmanship. Titanium is applied to the front barrel, enabling this lens more durable. The 114mm standard front diameter size and the unified positions of the aperture and focus gear rings, making it easily attach and detach lens accessories such as Matte Box or Follow Focus.

Outstanding Usability
It can be mounted on various cameras for three mount options: PL, Canon EF, and Sony E mount.
All scales, including focal length and aperture values, are on both sides of the lens and with the luminous font that glows in the dark, enabling convenient verification and operation, even in low light environments. 300° wide focus gear rotation angle makes you adjust focus minutely.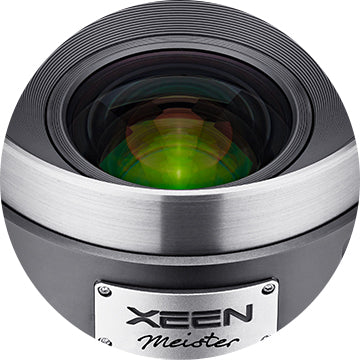 8K Outstanding Resolution
XEEN Meister lenses offer unprecedented resolution in all areas of the image, supporting 8K on the full-frame cameras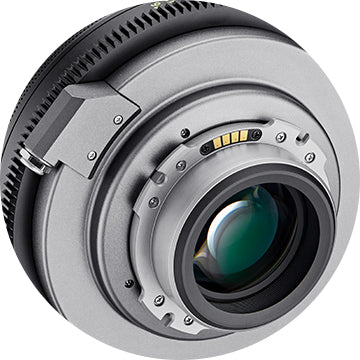 Lens Meta Data Recording
/i Technology, which enables cameras to automatically record the lens meta data, is applied, making production and post-production more effective
(PL Mount Only)
Titanium Front Barrel
Titanium is equipped to the front part of the barrel, making it both light and durable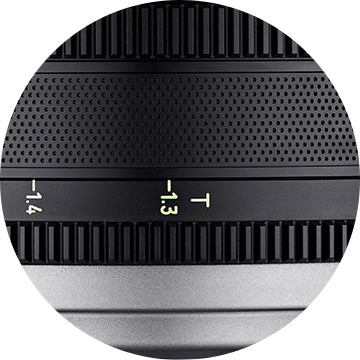 Fastest T1.3 Cine Lens
The widest stop of T1.3 allows shooting even in low-light environments for more natural-looking shots and the cinematic look of an extremely shallow depth of field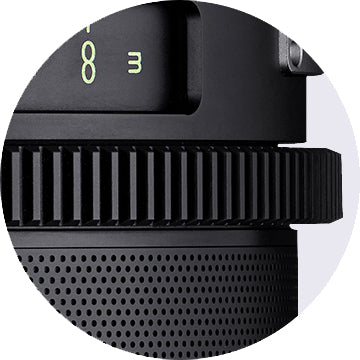 Wide Focus Gear Rotation Angle
300° wide angle of rotation enables fine focus adjustment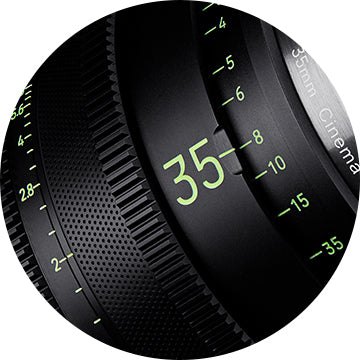 Luminous Font
All scales, including focal length and aperture values, are treated with bright fluorescent paint for convenient use, even in low light environments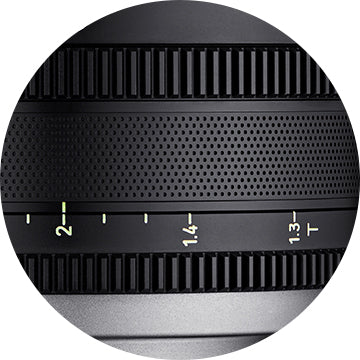 Bidirectional Scale
The focus and aperture values are displayed on both sides of the lens, enabling easy verification and operation from either side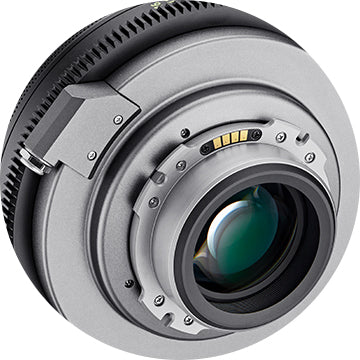 PL, EF, E Mount
Three mount options for mounting on a variety of cameras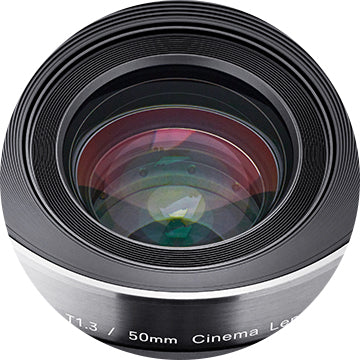 X-Coating
Provides a distinctive look by controlling internal reflection, flare, and ghosting, and produces dramatic images